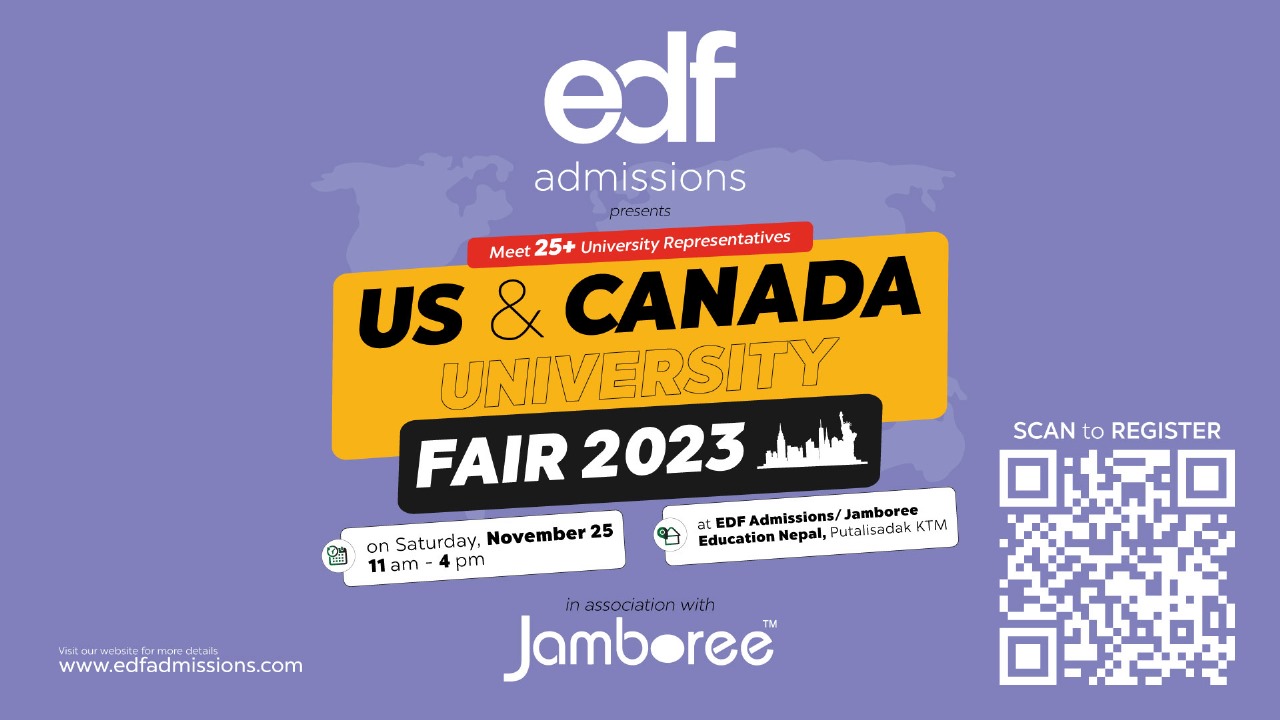 US & Canada University Fair 2023: Explore Opportunities Abroad
The US and Canada University Fair 2023 is brought to you by EDF Admissions in collaboration with Jamboree Education Nepal. This exciting event is set to host over 25 prestigious American and Canadian universities, creating a unique platform for students in Nepal to embark on an educational journey like no other.
Why Choose US and Canadian Education?
Studying in the United States and Canada is a dream for many international students. Here are compelling reasons why you should consider it:
Diverse Academic Programs: Both countries offer a vast array of academic programs, from engineering and business to arts and humanities, allowing you to tailor your education to suit your passions and career goals.
Research Opportunities: The US and Canada are global leaders in research and innovation. You can participate in groundbreaking research projects and contribute to the advancement of knowledge in your field.
Multicultural Environment: Experience rich and diverse cultural environments in both countries. Interact with students from around the world, expanding your horizons and gaining a global perspective.
Post-Graduation Work Opportunities: Both countries provide various post-graduation work opportunities, making it easier for you to gain valuable work experience in your chosen field.
University Scholarships in the US and Canada
At the US and Canada University Fair 2023, you'll have the chance to explore a variety of scholarships available for international students in both countries:
Fulbright Foreign Student Program (US): This prestigious program offers full scholarships for graduate-level studies in the United States, covering tuition, airfare, health insurance, and a stipend.
Canadian Commonwealth Scholarship Program (Canada): This program offers scholarships to students from Commonwealth countries, providing financial support for their studies in Canada.
Hubert H. Humphrey Fellowship Program (US): This fellowship program provides a year of non-degree academic study and related professional experiences in the US, enhancing your skills and network.
Vanier Canada Graduate Scholarships (Canada): The Vanier Scholarships aim to attract and retain world-class doctoral students by offering significant financial support during their studies.
The US and Canada University Fair 2023 will take place on November 25th, from 11 am to 4 pm, at the EDF Admissions office, located on the 6th Floor of Simkhada Plaza, New Plaza, Putalisadak, Kathmandu. This event will be your gateway to realizing your academic dreams abroad.
Don't miss this opportunity to connect with representatives from top universities and receive personalized counseling to kickstart your international educational journey. For more details and to register for the event, visit the event website www.edfadmissions.com or contact the provided phone numbers and email address.
In summary, the US and Canada University Fair 2023 combines information about the educational opportunities in both countries, the benefits of studying in the US and Canada, scholarship opportunities, and details about the event's organizers and location. It encourages readers to register for the event and take the first step toward an international educational journey.